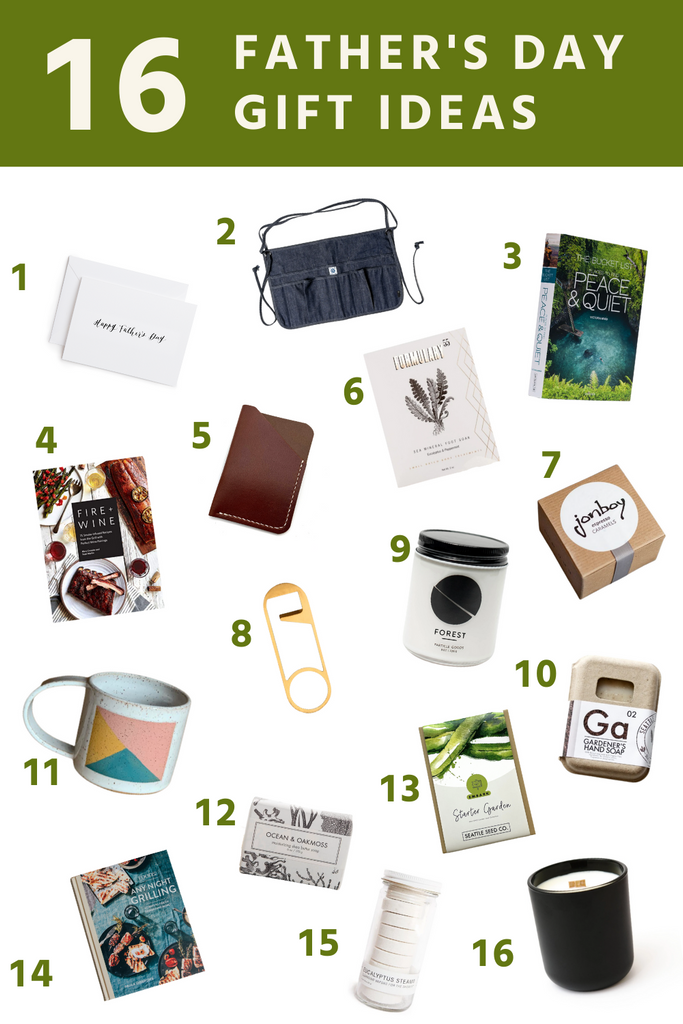 Let's celebrate dad!
June 20 is Father's Day, 2021, and we want to help you celebrate the dad, dads or father figures in your life! Whether you're shopping for books, personal care products, or gardening goods, we've got you covered.
This gift guide was created in collaboration with our sister business, Good Sheila (same owner as Station 7, and maker of item #1 below!).
Match the numbers in the image with the numbers below.
Happy Father's Day: No Father's Day gift is complete without a handwritten card. It's just the facts. Simple and beautiful, this greeting card was made by Seattle-based Good Sheila (in fact: same owner as Station 7!). Also check out: Dad to the Bone.
[Seattle-based LGBTQ, woman-owned business]


Waist Apron: This sturdy denim waist apron is the perfect companion for grilling, cooking, art, gardening, or any other project where tools come in handy.
[Black-owned business]


The Bucket List: Places to Find Peace and Quiet: Written by Victoria Ward, his book is escapism at its finest. Help the dad in your life dream up a trip to somewhere relaxing, restorative and peaceful -- or just get lost in the beautiful photos and pages.


Fire + Wine: 75 Smoke-Infused Reicpes from the Grill with Perfect Wine Pairings: Wine and grilling... the best of both worlds? Written by pitmaster Sean Martin and sommelier Mary Cressler, and features awesome at-home BBQ recipes with the wine pairings that match them best.


Shi Shi Card Holder: This beautiful, simple, handmade card holder features a single-pocket and holds either credit/debit cards or business cards -- your choice.
[Seattle-based business]


Sea Mineral Foot Soak: Perfect for anyone who really just needs to put their feet up. This is a fizzy foot soak with essential oils and Dead Sea mineral salts.
[woman-owned business]


Jonboy Caramels in Espresso: These caramels are universal crowd pleasers. These espresso caramels can put a pep in anyone's step.
[Seattle-based business]


Safety Pin Bottle Opener: Open your beer bottles in style with this simple and functional bottle opener. 


Forest Candle: This candle takes you straight into the forest, with scents of fir needles, damp earth, coriander, oakmoss, rosemary and cypress. Phthalate free, paraffin free, lead free, cruelty free.
[Seattle-based, woman-owned business]


Organic Gardener's Hand Soap: Calling all gardeners, artists, or other makers whose hands need a good scrub: this soap is for you. With coffee grounds and apricot kernels for scrubbing and citrus oil for scent, this soap is a keeper.
[Seattle-based business]


Scene Mug: Gift the absolute TREAT of one of these handmade mugs. Thrown from a pottery real, these mugs feature a colorful handpainted scene.
[Seattle-based, woman-owned business]


Ocean & Oakmoss Shea Butter Soap: Beautifully packaged -- this soap smells as good as it looks. Plus, it's extra moisturizing and skin-softening (thanks, shea butter!)
[woman-owned business]


Starter Garden Seeds: This set includes 5 packets of easy-to-grow non-GMO starter seeds, including: sage, echinacea, lemon balm, calendula, and chamomile. Plus, it includes instructions to make your own healing balm and salve.
[Seattle-based business]


Any Night Grilling: This book, written by Texan author Paula Disbrowe, covers the essentials of cooking over fire, and offers delicious recipes that can be made any night of the week. 


Eucalyptus Shower Steams: Easiest at-home spa treatment.... ever. These tablets basically turn your shower into a steam room. They are scented with eucalyptus (supports respiratory health) and peppermint (awakening and refreshing). 
[woman-owned business]


Smoky Bourbon Candle: Beautiful, ethically made, and smells like heaven. Treat the bourbon lover in your life to this beautiful 12oz candle featuring a soft crackling wood wick.
[Seattle-based, LGBTQ-owned business]
Want to browse on your own? From books to plants to home goods to body products to candles to jewelry and more.... Station 7 carries something for everyone. Browse our shop.
Or, go learn about our sister business, Good Sheila (maker of the greeting card in this gift guide)!