How We Choose Our Products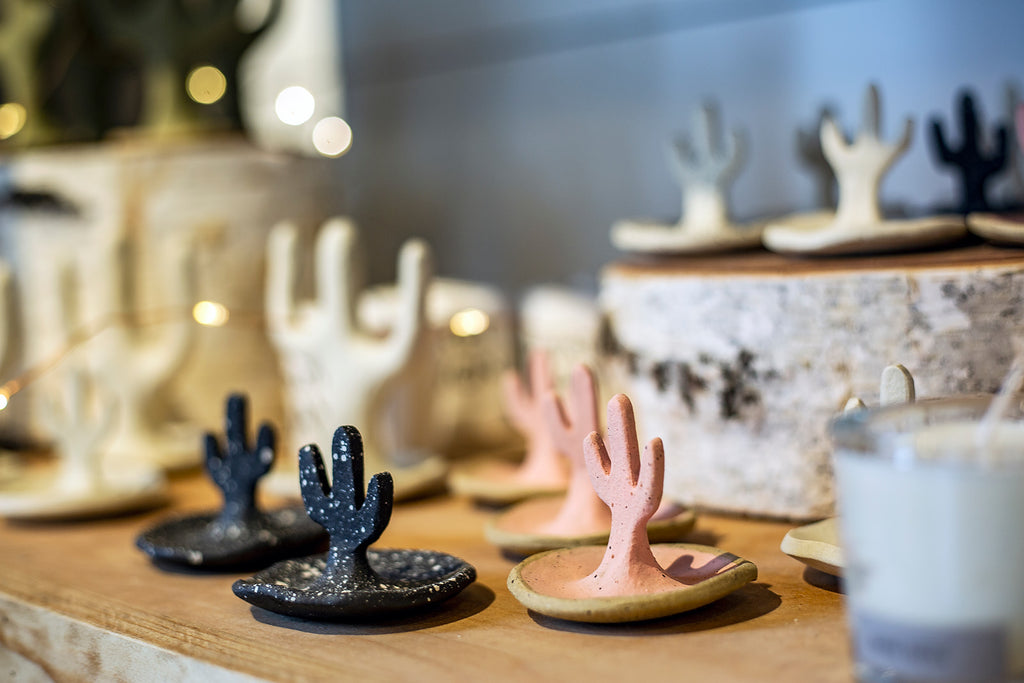 Here's the most common reaction we get when someone enters Station 7 for the first time.
"OOOOOOOOOOHHhhhhhh."
It's been that way ever since my mom first opened Station 7's doors in 2015. Yes, we are so lucky to be situated in an incredible, historic building (a retired fire station). And yes, we have some people on our team who are INCREDIBLE at arranging products and merchandising (I'm looking at you, Chelsea and Mary!)
But what people are most taken by when they come into our retail shop for the first time is something we can't take credit for -- and that's our products themselves. How unique, interesting, and beautiful our products are, and where they come from. Not only are they eye-catching, but most of the time they are handmade, made locally, made by women or people of color, and/or from a company that gives back.
We've been asked many times how we source our products, so today I thought I'd pull back the curtain and give you a bit of a peek into how we decide what products to carry in our shop.
The main factors we consider when selecting products and businesses for the shop are:
Our values

What our customers love

Identity of the business owners

Location

Small batch
The first, and by far most important factor we consider when we're looking at products to carry at Station 7 is our values. 
VALUES
We're big believers in the power of values for small business owners. When you're clear on your values, you have a set of criteria that you can run EVERY decision in your business by. Where you spend your money, how you treat your customers, what you say and show in your marketing -- every action you take in your business should be in alignment with your values.
At Station 7, we've written our values up into a Good Business Statement… something we'd totally recommend that any small business owner does.
(And by the way, if you're a small business owner looking to get clear and articulate your values, I've put together a free workbook on this -- click here to download).
Our values are:
Support small business

Give back

Speak up

Vote with our dollars

Reduce environmental impact



Let's look at "reduce environmental impact", for example. When we're looking for new products, we are especially interested in companies with environmentally-friendly business practices. For example, we look for personal care products and candles with clean ingredients, packaging that is low on plastic, and eco-friendly shipping decisions.
You'll see these values continue to come into play as I continue through our list of factors.
WHAT OUR CUSTOMERS LOVE
We have the best customers and community on the planet, and we're always looking to better understand how to provide the best, most useful and beautiful products for them. We know our customers pretty well, and look to select products that fit with their values and aesthetic preferences. We take feedback seriously, so let us know if there's something you want to see!
IDENTITY OF BUSINESS OWNER
We love buying from communities that are less represented in the business world: Black-owned businesses and other BIPOC-owned businesses, woman-owned businesses, LGBTQIA+-owned businesses, and other businesses from underrepresented communities. 
LOCATION
We love Seattle and the Pacific Northwest, and nothing makes us happier than carrying products from local makers and artisans -- people who can pop into the shop and see their goods on our shelves. When we're looking at new vendors to bring into the store, we prioritize businesses made in the Seattle area, then Washington state, and then the Pacific Northwest.
SMALL BATCH
We believe that small businesses can make a huge impact on the world (so much so, that I host a podcast about this very topic -- Making Good). So, we buy predominantly from small businesses. There are exceptions to this -- for example, we buy books directly from the publisher -- but for the most part, we love carrying goods made by people who love what they do.
So! There you have it. A bit of a peek into our product selection process. I hope this helps provide some context and background for how we go about handpicking the products you see at Station 7.
P.S. We *LOVE* product recommendations. If there's a type of product or small business that you think would be a great fit for Station 7, please let us know! Contact us to recommend them.
Photos (from the top):